Fertility Research Studies
Our Fertility Doctors

Regularly Take Part in Nationally Recognized Fertility Research Studies
At Dallas-Fort Worth Fertility Associates, we pride ourselves on staying at the cutting-edge of fertility treatment. In order to learn everything we possibly can about treating infertility, we participate in collaborative and original fertility research studies, which often lead to breakthroughs in fertility treatment.
Pharmaceutical companies, medical device manufacturers and other leading researchers seek out our Dallas and Southlake fertility centers, enlisting our help as participants in fertility research studies. Our experienced reproductive endocrinologists and embryologists have decades of combined research achievements, and our team regularly contributes valuable insights to further fertility research.
Our Prestigious Fertility Specialists Author Professional Papers and Present Findings to National Audiences
It is a great honor to present research findings at the annual ASRM (American Society for Reproductive Medicine) meeting, and we are proud to say that our physicians are repeatedly chosen to present papers, posters, oral presentations and video presentations. We are always striving to learn more so that our patients receive the very best treatment available in the field of reproductive endocrinology.
Our Patients' Well-Being and Safety Are at the Forefront of Our Research
At Dallas-Fort Worth Fertility Associates, our patients always come first. An Institutional Review Board (IRB) approves fertility research studies that we are involved in as individual physicians and as a clinic. These boards are established to review research when human participants are involved, protecting the safety of the participants. During any study we participate in, we practice full disclosure. In short, our patients can feel secure in the knowledge that we are always looking out for their welfare.
We Offer Patients the Opportunity to Participate in Fertility Research Studies
You may wonder if you should investigate participating in a fertility research study and how fertility research benefits you. Following are considerations that may affect your decision:
Research is critical to the study of infertility. The advances we have made thus far are due to fertility research.
The findings that result from a fertility research study may very well benefit your fertility journey.
The knowledge gained through research benefits our patients and the greater infertility community. Research allows our patients to rest assured in the knowledge that the doctors at Dallas-Fort Worth Fertility Associates employ the most up-to-date treatments to help them create the family of their dreams.
If you would like to learn more about current or upcoming research at Dallas-Fort Worth Fertility Associates and find out whether you qualify to participate in a study, please contact us.
Poster Presentations for Infertility
HCV-Positive Intended Parents May Be Safely Used for Gestational Carrier Cycles Using RT-PCR Testing and Extended Embryo Culture: MR Thomas, TR Ferguson, D Oliver, DG Hammitt, SJ Chantilis.
Effect of Artificial Collapse and Equilibration Times on Survival of Human Blastocysts Following Vitrification Using a Closed Double Straw System: CA Guerrero, O Perez, J Goldstein, S Chantilis, K Lee, D Hammitt.
High Survival of Human Hatched Blastocysts after Blastocoele Collapse Prior to Vitrification Using a Closed System: CA Guerrero, T Ferguson, S Chantilis, K Lee, J Goldstein, D Hammitt.
Propanediol is an Efficient Substitute for Dimethyl Sulfoxide in the Vitrification of Oocytes and Cleavage Stage Embryos: CA Guerrero, D Ward, S Chantilis, K Lee, J Goldstein, D Hammitt.
Re-Freezing Blastocysts: A Prospective Randomized Study Comparing Slow Freezing and Vitrification: CA Guerrero, R Young, T Ferguson, S Chantilis, A Rodriguez, D Hammitt.
Fertilization Rate: A Simple Indirect Marker to Predict Clinical Outcome: CA Guerrero, S Chantilis, J Goldstein, A Rodriguez, J Douglas, D Hammitt.
High Survivability of Vitrified Human Oocytes and Cleavage Stage Embryos after Exposure to Shipping Conditions in a Dry Shipper for 96 Hours: CA Guerrero, S Chantilis, J Goldstein, K Lee,
J Douglas, D Hammitt.
Effects of exogenous testosterone supplementation in gonadotropin stimulated cycles. Mika Thomas; Human Reproduction
Transactivation of the epidermal growth factor receptor is involved in the lutropin receptor-mediated down-regulation of ovarian aromatase expression in vivo: M. Thomas; Molecular Endocrinology
Oral Presentations for Infertility
Late Luteal Bleeding in IVF Cycles Supplemented With Both Crinone And Oral Estradiol: JP Toner, SJ Chantilis, KL Lee
What Do Excellent IVF Programs Do? Oocyte Retrieval, Embryo Transfer And Luteal Phase Support:MR Thomas, AE Sparks, LL Mains, BJ Stegmann, GL Ryan, BJ Van Voorhis
Recipients Of Advanced Age Undergoing Oocyte Donation Have Poorer Clinical Outcomes, C Guerrero, S Chantilis, K Lee, A Rodriguez, R Kaufmann, D Hammitt
Normalization Of The Live-Birth Sex Ratio After Human Blastocyst Transfer From Optimized Culture Conditions, JD Madden, SJ Chantilis, JW Douglas, AJ Rodriguez, AR Guerami, M Meintjes
Oocyte Maturation Rate: An Indicator Of Clinical Outcome, C Guerrero, D Bookout, S Chantilis, A Rodriguez, R Kaufmann, D Hammitt
Effect Of Prefreeze Trophoblast Quality On Frozen Embryo Transfer (FET) Implantation (IR) And Live Birth Rates (LBR), T. Ferguson, D. Ward, SJ Chantilis, KL Lee, D Bookout, DG Hammitt
Trophoblast Quality Can Improve Birth Rates From Frozen Embryo Transfers, T Ferguson, D Ward, S Chantilis, K Lee, D Bookout, D Hammitt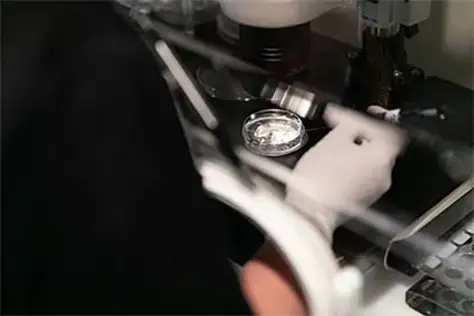 New in Fertility in 2012
Accepted for publication: Fertility and Sterility Oct. 2012
Potential of inner cell mass outgrowth and amino acid turnover as markers of quality in the in vitro
fertilization laboratory: Ravi P. Gada, M.D., Gaurang S. Daftary, M.D., David L. Walker, M.S., Jean M. Lacey, B.A. Dietrich Matern, M.D., Ph.D., and Dean E. Morbeck, Ph.D.