Dr. Ravi Gada
Ranked #1 by U.S. News in gynecology and endocrinology.
Board Certified

Reproductive Endocrinologist and Fertility Specialist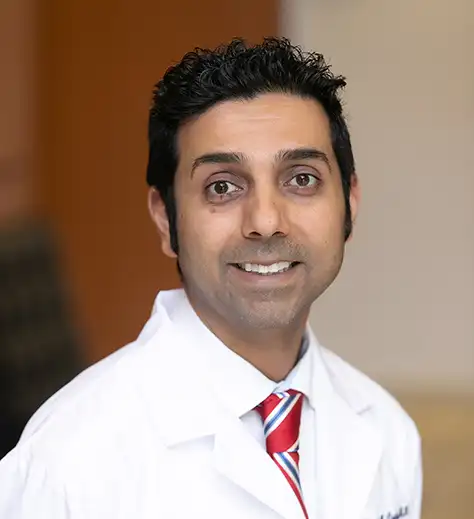 Dr. Ravi Gada was born and raised in Lubbock, Texas. He received his Bachelor's degree in Biochemistry at the University of Texas at Austin. Dr. Gada entered Texas Tech University School of Medicine in 2001 and completed a dual M.D. and M.B.A of Health Management in 2005. During medical school, Dr. Gada served as his class president for three years. He then moved to Minnesota where he completed his residency in Obstetrics and Gynecology at the world-famous Mayo Clinic.
While there, he was voted best resident researcher, best resident laparoscopic surgeon, and selected as the administrative chief resident. In 2009, Dr. Gada continued his training for an additional three years at Mayo Clinic and completed his fellowship in Reproductive Endocrinology and Infertility. During his fellowship, he also completed his second Master's degree in Biomedical Sciences with a focus in Reproductive Endocrinology. Dr. Gada has also been very active with the American College of Obstetricians and Gynecologist and served as an executive board member from 2010 – 2012.
Jamie and Ben's Fertility Story
Meet Jamie and Ben as they describe how they took charge of their fertility with help from Dr. Gada and Dallas - Fort Worth Fertility Associates.
During the past seven years at Mayo Clinic, Dr. Gada trained with some of the most well-respected gynecologists and reproductive endocrinologists in the country. Mayo Clinic is ranked #1 by U.S. News in gynecology and endocrinology. As an infertility specialist, Dr. Gada is an expert in the medical and surgical treatment of infertility, endometriosis, and uterine fibroids. He performs a wide array of surgeries including laparoscopic, hysteroscopic, robotic, and micro-surgery. Dr. Gada has also published and presented at many national meetings on improving IVF quality and success. He has also authored many book chapters involving infertility and gynecologic surgery. Dr. Gada prides himself on taking exceptional care of his patients and listening to all of their needs. He strives every day to provide each patient with compassionate care and the best medical therapy.
On a personal note, Dr. Gada is very happy and excited to return to Texas. He enjoys traveling, sports, and spending time with his friends and family.
Ready to build the family of your dreams?
Schedule your consultation with Dr. Gada today.
Schedule Consultation