Dr. Samuel J. Chantilis
Medical Director and Practice Manager for Dallas - Fort Worth Fertility Associates
Board Certified

Reproductive Endocrinologist and Fertility Specialist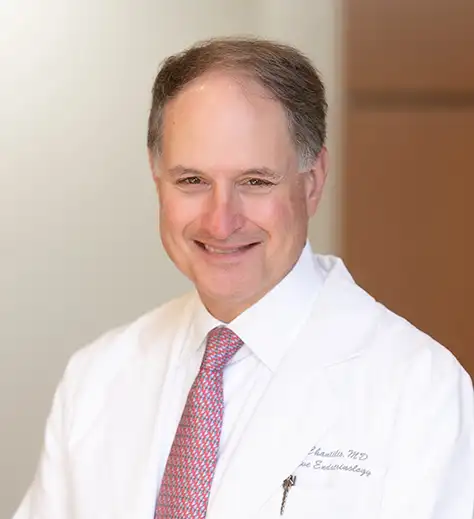 Samuel Chantilis, M.D. is a highly trained and experienced infertility specialist in his hometown of Dallas, TX. He is board-certified in reproductive endocrinology and infertility and has been practicing in Texas since completing his training in 1993. Dr. Chantilis was a faculty member at UT Southwestern Medical School for five and a half years before entering private practice in January 1999 at Presbyterian Hospital in Dallas. Dr. Chantilis has been the leading provider of IVF services at the Presbyterian Hospital ARTS program since 1999, having conducted approximately 2,500 egg retrievals.
In 2010, Drs. Chantilis and Lee founded Dallas Fertility Center, a facility associated with DFW Fertility Associates. The fertility specialist team was joined by Mika Thomas, MD, Reproductive Endocrinologist, Infertility Specialist.
Dr. Chantilis serves as the Medical Director and Practice Manager for DFW Fertility Associates. He has handled more than 500 donor egg cases during his career, making him one of the most experienced fertility specialists conducting egg donation procedures in the Dallas - Ft. Worth area. Our donor egg program in Dallas is one of the most successful in the country.
Child magazine named the Presbyterian Hospital ARTS Program one of the "10 Best Fertility Centers" in the country, a considerable honor given that Dr. Chantilis has been the leading volume fertility specialist since he joined the program.
Chris and Carly's Fertility Story
Watch as Chris and Carly describe their journey to building the family of their dreams with help from Dr. Chantilis and the team at Dallas - Fort Worth Fertility Associates.
Education

and Medical Training

Dr. Chantilis earned his BA degree in chemistry at Southern Methodist University prior to attending the University of Texas Southwestern Medical School in Dallas. He completed his Medical Degree in 1987 and pursued residency training in obstetrics and gynecology. During his senior year in medical school, Dr. Chantilis first encountered the relatively new field of infertility during a rotation at a private hospital in Dallas. This rotation sparked his interest in the field of reproductive medicine.

Dr. Chantilis moved to Houston, TX to complete his internship and residency training at Baylor College of Medicine, which is in the Texas Medical Center, the largest medical center in the world. During his medical training in obstetrics and gynecology, he was fascinated with the surgical treatment of infertility and the burgeoning field of in vitro fertilization. He ultimately decided to explore subspecialty training as a fertility specialist.

Dr. Chantilis returned to Dallas to complete his fellowship training in reproductive endocrinology and infertility at UT Southwestern Medical School. After subspecialty training in infertility, Dr. Chantilis joined the faculty, allowing him to gain teaching and research experience while practicing as a fertility specialist. During his tenure as an assistant professor, he completed an informal surgical fellowship under the direction of D. Alan Johns, M.D. at Harris Methodist Hospital in Ft. Worth, TX. Dr. Chantilis then ultimately served as the medical director of the IVF program at UT Southwestern Medical School.

While on the faculty, he earned his board certification in obstetrics and gynecology, as well as in reproductive endocrinology and infertility. Board certification requires that a fellowship in reproductive medicine and infertility be completed, and that the candidate pass both written and oral examinations. Dr. Chantilis is one of only a few board certified reproductive endocrinologists (fertility specialists) actively practicing IVF in Dallas.
Awards

and Research

Dr. Chantilis has received numerous honors and awards over the years, including being named D Magazine's Best Doctor in Dallas and Texas Monthly's Texas Super Doctor. He has been listed as one of the Best Doctors in America and received the Healthcare Hero Award from the Fort Worth Business Press in 2005.

Dr. Chantilis is actively involved in fertility research and has authored publications in many peer-reviewed scientific journals. He gives presentations on fertility related topics to his peers and patients on a regular basis. He is a Fellow of the American College of Obstetrics and Gynecology and a member of the American Society for Reproductive Medicine, the Society of Reproductive Endocrinologists, the Society of Reproductive Surgeons, the Texas IVF Society, and the American Association of Gynecologic Laparoscopists.

When choosing a fertility specialist, it is essential to review his or her qualifications. Studies demonstrate that patients who are treated by a fertility specialist have significantly better success rates and generally lower treatment costs. Not all physicians who treat infertility have undergone fellowship training. Information on a physician's background can often be found on their website or by visiting the American Society for Reproductive Medicine (ASRM) website. However, a physician can be a member of the ASRM and not be subspecialty trained in fertility.
Ready to build the family of your dreams?
Schedule your consultation with Dr. Samuel Chantilis today.
Schedule Consultation