Medical Fertility Preservation
How do you know the right time to freeze your eggs?
Preserving Your Fertility

Through Cancer Treatment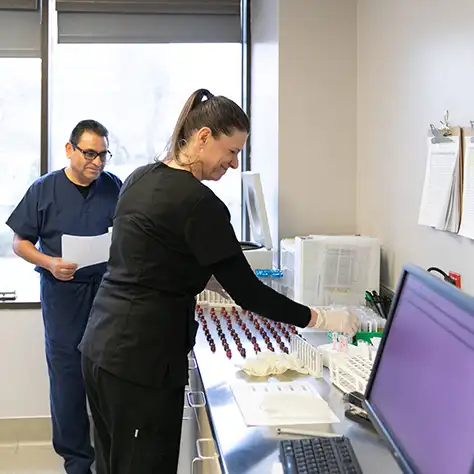 Patients may consider egg or sperm freezing when looking to preserve fertility through medical treatment or a medical condition that could negatively affect their (or their partner's) fertility now or down the road. Chemotherapy, radiation therapy, surgeries, or certain medications could impact your ability to grow your family.
Preparing for your treatment is overwhelming as it is. Adding the burden of a potential impact on your future fertility is a lot for a patient to take on. Electing to freeze your eggs, sperm, or embryos is a great way to secure options for your future after treatment has ended.
Working with your oncologist (or other medical specialists), your physician at Dallas Fort-Worth Fertility Associates will determine the best timing for starting the preservation process prior to or during your treatment plan.
If you are a woman about to go through treatment and have a partner, we often will retrieve eggs then fertilize them with your male partner's sperm to form embryos. Those embryos will then be frozen for future use through an IVF treatment. If a woman does not have a partner, then traditional egg freezing is an available option.
And don't let the idea of cost deter you from your dreams of having a family once your body is ready. Here at Dallas - Fort Worth Fertility Associates, we offer a discount of 50 percent off the freezing process for cancer patients.
Ready to take the first step?
Schedule your consultation with one of our doctors today.
Schedule Consultation