ICSI - Intracytoplasmic Sperm Injection
A Potential Solution For Male Factor Infertility
ICSI

- Intracytoplasmic Sperm Injection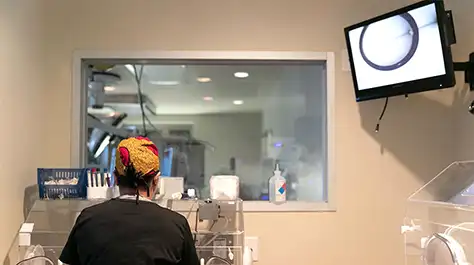 ICSI or intracytoplasmic sperm injection is a procedure utilized to treat moderate to severe male factor infertility. It is performed in an embryology laboratory and involves the injection of a single sperm directly into an oocyte (egg) for the purpose of creating an embryo. ICSI is a form of in vitro fertilization as fertilization occurs in a laboratory, but it is different from "routine" IVF where sperm and eggs are cultured together overnight in an effort to inseminate eggs.
During an ICSI procedure, microsurgical instruments are used to stabilize the oocyte while an individual sperm is loaded into a special hollow needle. Once the sperm is loaded, the needle will pierce the outer shell of the egg (called the zona pellucida) and the sperm will be pushed out. Fertilization will be evaluated the next morning. Couples with male infertility and a history of poor fertilization or polyspermic fertilization are candidates for ICSI.
ICSI is a revolutionary procedure and allows men with little or no sperm in their ejaculate to create genetically related children. The sperm is collected and concentrated from the ejaculate, or it can be directly retrieved from the male's reproductive tract using testicular sperm extraction (TESE) or microscopic epididymal sperm aspiration (MESA). It's common for sperm to be present in the male reproductive tract even though there are none in the ejaculate.
Our fertility clinic laboratory has state-of-the-art equipment for performing ICSI, including a micromanipulator, microsurgical tools, and specialized microscopes. ICSI is a delicate procedure. Our embryology team has years of successful clinical experience, and our board certified fertility specialists oversee all aspects of our laboratory.